With a 30-plant growing capacity and a vertical design, one cannot help but wonder what's the difference between Gardyn vs. iHarvest. If you are one of them, you have come to the right place.
In this article, we're pitting these two systems in a head-to-head battle, comparing each model's features, design, costs, and more. So, stick around for another hydroponic vertical gardening comparison guide from TangledBank.net
Gardyn vs. iHarvest Comparison Table
Don't have spare time to go over the entire comparison article? You can use the comparison table to decide between Gardyn vs. iHarvest.
| | Gardyn's Home Kit 2.0 | IGWork's iHarvest |
| --- | --- | --- |
| Price | $849+ (see latest price) | $849+ (see latest price) |
| Growing Capacity | 30 plants | 30 plants |
| Horizontal Space | 2 sq ft | 2.5 sq ft |
| Water consumption (vs. traditional methods) | 95% less | 98% less |
| LED grow lights | Integrated | Separate |
| Ave. LED grow lights consumption | 75W | 70W |
| Monthly subscription | Optional | None |
| Trellis | None | Yes |
| Wireless control via smartphone | Yes | None |
| Water reservoir | 6 gallons | 14 gallons |
| Extra features | Two stationary cameras for wireless monitoring and Kelby (AI-powered gardening assistant) | Trellis and nutrient and pH testers |
Aesthetic
Winner: Gardyn
With Gardyn, you get a sophisticated and minimalist indoor garden that you can proudly display in your kitchen or living room. Its LED grow lights are seamlessly integrated into the metal beams, creating a beautiful contrast to the white columns and water reservoir base. Adding to the aesthetic appeal of the Gardyn is the natural bamboo cover for the water tank.
On the other hand, iHarvest looks like a futuristic art piece in your home. It has an all-white finish with its wave-like trellis system to create contrast. Adding to the design appeal of the iHarvest are its two separate, free-standing LED grow lights, which further emphasize this system's unique design choice.
Design-wise, we're giving the award to Gardyn. We know that design is subjective, but iHarvest's separate grow light system is a deal breaker. It can easily topple down without using too much effort. So, if you have kids or pets in your home, we highly suggest getting the Gardyn.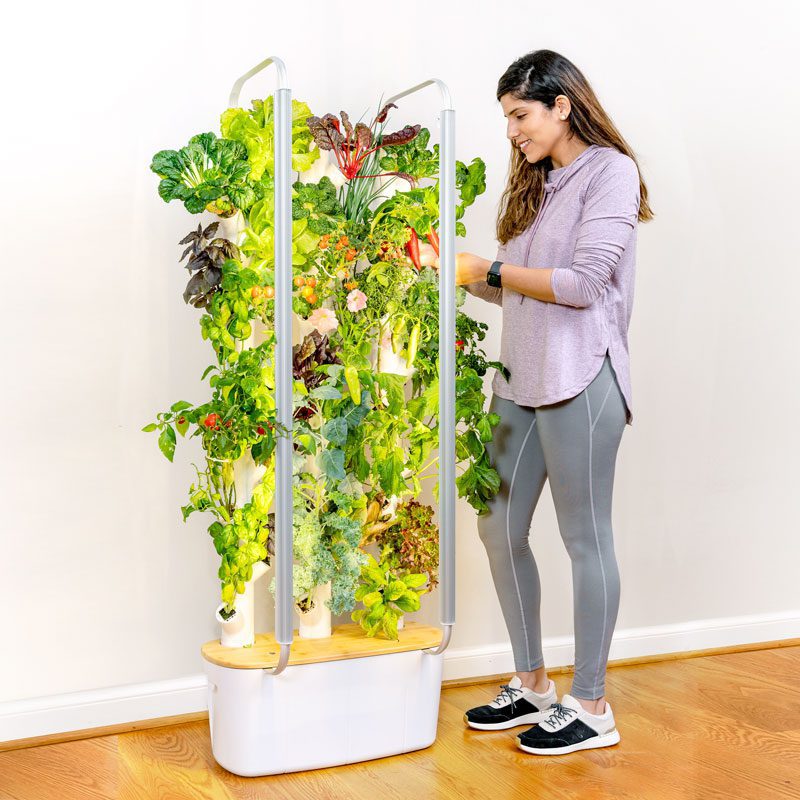 Winner of Aesthetic: Gardyn 2.0
A sophisticated and minimalist indoor garden, with integrated lights, that you can proudly display in your kitchen or living room.
---
Price
Winner: Gardyn
Both systems are a couple of dollars shy of reaching the same price tag as a brand-new iPhone. However, we're giving the award to Gardyn because its components are significantly better. Every piece, from the yCubes to the plug-n-play pods, feels premium and specifically designed for the system.
With iHarvest, it doesn't feel like you're getting worth your money. The inclusions, such as the nutrients, growing mediums, pump, and water timer, appear like it was bought from wholesale manufacturers.
One thing to know about Gardyn is that they have a membership program. You don't have to join, but you'll be missing out on one critical and unique feature of the system - Kelby, an AI gardening assistant.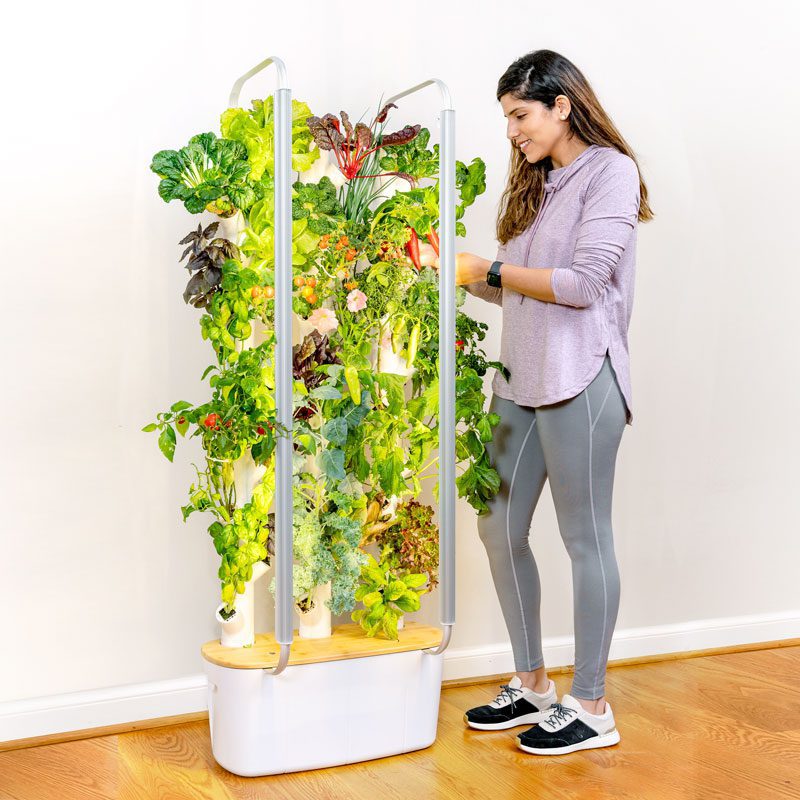 Winner of Price: Gardyn 2.0
While the prices come out similar, Gardyn 2.0 shines in the quality of the accessories that come with it.
Grow Capacity and Performance
Winner: iHarvest
As mentioned earlier, both systems can grow 30 plants. However, you should consider what type of plant you're going to grow because it will significantly impact the maintenance required from you (trimming the roots) and the overall efficiency of the system.
For instance, with Gardyn, it uses the Hybriponic™ Technology, which is basically a fusion of hydroponic and aeroponic. So, rather than having the roots of the plants suspended 24/7 in the reservoir with plant food and water, the roots are suspended in the air, and the water will be delivered directly to the roots on a scheduled basis.
This promotes better air and nutrient distribution, and the roots do not get tangled up with the water pump.
The pitfall of this design is that you'll eventually have to trim the roots. Gardyn uses Keurig-like cups that go inside the slots. If you grow plants with a deep root system, the roots will eventually clog up the pod's opening to access the water.
iHarvest uses the same principle. It has a bottom water tank reservoir, wherein a pump will deliver the water and nutrients to the plants. The difference with Gardyn is that the pods are not in a column. Instead, you have a large five-tier panel with six slots per level.
You don't have the issue with roots clogging the slot because the roots can grow freely behind the panel. Another advantage of the iHarvest is its trellis, which keeps your plants upright and not drooping.
Cleaning
Winner: iHarvest
In our Gardyn Home Kit 2.0 review, we discovered that assembling this vertical hydroponic garden is a bit complicated. And this difficulty spills over when it's time to clean the system. You'll have to disassemble every component that you've put together. Plus, you have to wash it by hand. Good thing Gardyn only recommends deep cleaning the system (AKA removing all the parts) twice a year.
On the other hand, iHarvest is a breeze to clean. Yes, you'll have to take it apart but with fewer parts to disassemble, the iHarvest takes the spot as the easiest to clean.
Ease of Use and Control
Winner: Tie
If you value wireless control, then Gardyn's Home Kit 2.0 is for you. The light and water control can be conveniently accessed from the dedicated smartphone. Do keep in mind that Gardyn doesn't have any control panel on the device. There is only a power button and everything else is controlled from the app.
On the other hand, iHarvest uses physical timers for light and water. There is a learning curve in setting the timers for the first time. We suggest watching the video tutorial from IG Works. 
Higher Yield Starting Today
Deciding between Gardyn vs. iHarvest is no easy feat. Both use vertical space and can grow 30 plants per growing season. Plus, their price points are very close.
Gardyn's Home Kit 2.0 is for you if you prefer an indoor garden system with a sleek design and high-tech features. Don't be discouraged by the membership plan of Gardyn. There are a lot of perks like access to Kelby, discounted yCubes, free shipping, and more. Not quite sure yet? Read our in depth review on Gardyn Home Kit 2.0.
On the other hand, you should pick iHarvest if you don't care much about looks and would rather have a more functional indoor hydroponic system.